Last week, Councillor Papp, Town CAO Ottaway, Treasurer Quinlin, and I attended the
Association of Municipalities of Ontario
(AMO) Conference in Ottawa. The annual three-day conference offered a range of learning sessions and networking opportunities for the more than 1,500 delegates.
While at AMO, your Pelham representatives also met with various Ministries to directly advanced your interests with the Provincial Government.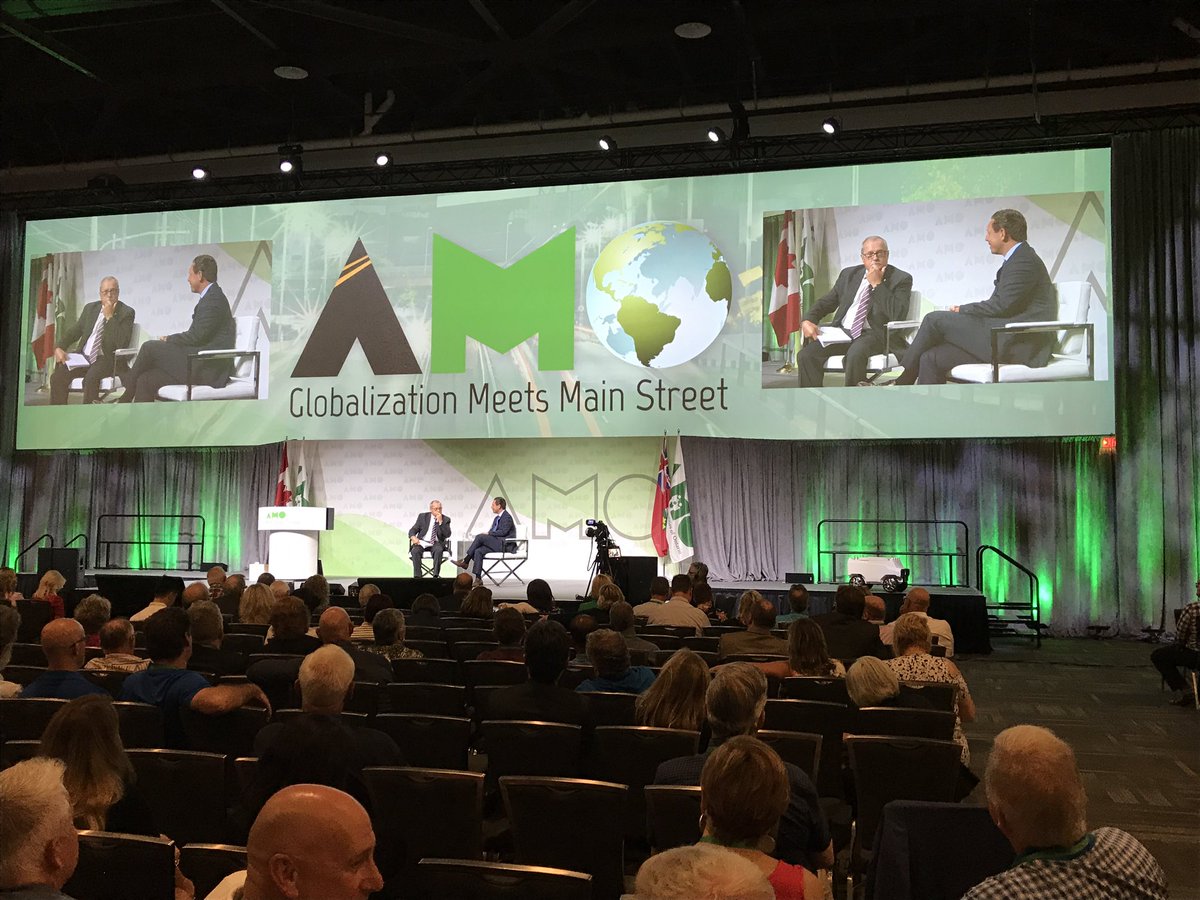 (Photo credit: AMO)
We met with Kathryn McGarry, Minister of Natural Resources (MNR), about increasing the protection of the Fonthill Kame. For the last nine years, we effectively used AMO and "Niagara Week" meetings to urge the Province to enhance the Area of Natural & Scientific Interest (ANSI) protections of the Kame. For the last couple of years we thanked the Provincial Government for finalizing those protections in late 2013. Now, we asked to work together with MRN Staff to add more of the Fonthill Kame to the protections offered by the Niagara Escarpment Plan.
We also thanked the Minister for recognizing the historic hamlet of Ridgeville during the Greenbelt review. Now that the Government fixed this Greenbelt error, we will work together with the Region and Province to delineate, re-designate, and re-zone the "rural commercial" / boutique Ridgeville area.
We also met with Daiene Vernile, MPP & Parliamentary Assistant to Minister of Transportation (MTO), and with Grant Crack, MPP & Parliamentary Assistant to the Minister of Agriculture, Food & Rural Affairs, about funding for municipalities. We encouraged the government to fund municipal projects that help create wealth and prosperity for a community; we spoke not only about projects like downtown revitalizations but also community and cultural facilities like community centres and libraries. We also discouraged the government from investing in projects that create more sprawl – like urban boundary expansions or "smart centers" disconnected from community.
We listened to the three party leaders discuss and dismiss the AMO idea of a 1% increase in the HST to help fund municipal infrastructure.
Shockingly, one party leader also spouted a lie that needs to be quashed. Mr. Brown, leader of the opposition, told the hundreds of delegates that the Government broke their promise of extending GO Rail to Niagara. Later, the PC Party Press Office cited a 2014 quote from Jim Bradley, St. Catharines MPP, in which he stated that he thought the government would announce Niagara GO in 2015.
However, since the Region
failed to deliver the case for support for GO Rail
to the Premier by the end of 2014 (as she requested), how can anyone blame the government for inaction? In fact, because we delivered the business case after they finalized their 2015 budget, the Government and Metrolinx made the announcement for GO Rail to Niagara at their first opportunity –
in the 2016 Budget
. Since that and the formal announcement in June 2016, the Government and Metrolinx have continued to work on expanding GO Rail to Grimsby in 2021 and St. Catharines & Niagara Falls in 2023, as promised.
You may contact Mayor Dave at mayordave@pelham.ca and view past columns at www.pelhammayordave.blogspot.ca.